Reliable Roof Replacement in Indianapolis IN
When it comes to roof replacement in Indianapolis, IN, you want to make sure you're working with the best roofing service available. Because it goes without saying how important the roof is to our home. Our roof plays a vital role in preventing wind and weather damage to houses or places of business. Small roof problems can become large difficulties, and small problems are difficult to see from the ground. Therefore, it is obvious to hire a qualified roofing contractor to perform routine roof inspections in Indianapolis. As well as roof replacement is a significant investment, and finding the reliable roofing contractor in Indianapolis, IN, is essential to ensure the job is done professionally, efficiently, and within your budget.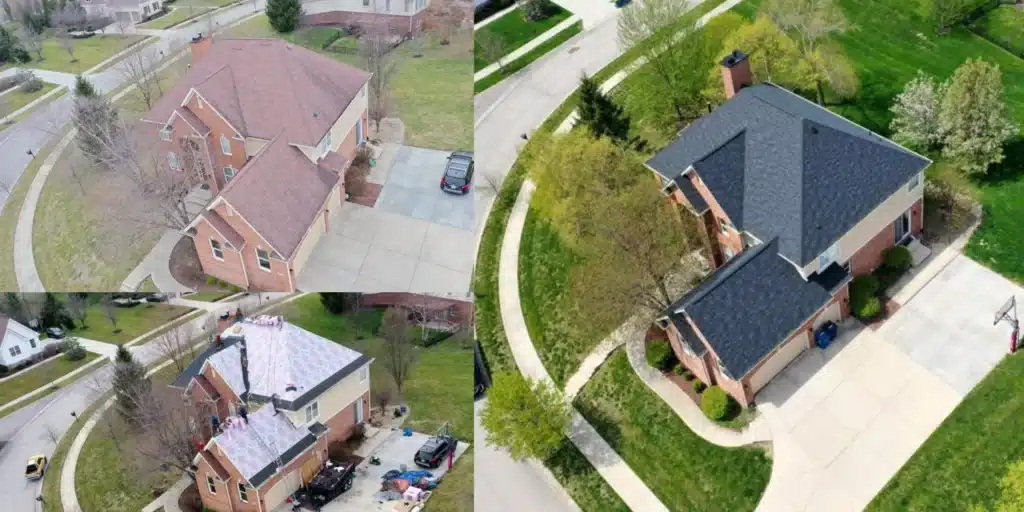 Best roofing services Indianapolis stand out from the rest
Today, we are here to help you to consider the factors when choosing a roofing company and highlight why we stand out as the premier choice for all your roofing needs in Indianapolis. With our unmatched expertise, commitment to quality, and customer satisfaction, we strive to exceed your expectations. We always focus on your satisfaction when working on your roofing replacement job, therefore we make sure to explain every step in detail and give you an amazing deal on high-caliber roofing repair. We make every effort to ensure that the replacement of your roof goes as smoothly as possible.
The final outcome? At a price, you now have a wonderful replacement roof that will last for many years.
The Best Expertise and Experience
As you search for 'roofing companies near me', it's essential to consider the level of expertise and experience they bring to the table. We are proud to boast a team of highly skilled and certified roofing contractors who have been serving the Indianapolis area. 
With years of experience in the industry, Indianapolis Roofing company has earned a stellar reputation for delivering top-notch roof replacement services. Our extensive experience in the industry equips us with the knowledge and insights necessary to handle any roofing project with precision and excellence. 
As a locally owned and operated roofing company in Indianapolis, IN, we understand the unique challenges posed by the local climate and weather conditions. Our team is familiar with the best roofing practices that can withstand the region's harsh winters and sweltering summers. When you choose us, you're choosing a company that is committed to ensuring your roof is durable and long-lasting.
Comprehensive Range of Services
A reputable roofing company should offer a comprehensive range of services to cater to the diverse needs of customers. From residential to commercial roofing projects, we have the expertise and resources to handle them all. 
Whether you require roof replacement, repairs, inspections, or maintenance services, our expert team is well-equipped to deliver outstanding results. Since every roofing project is different, we customize our services to fit your particular needs.
We execute every project with the highest care and skill, from simple repairs to full roof replacements. Our comprehensive range of services allows us to cater to the diverse needs of our customers and deliver top-tier results every time.
Certified and Insured
Our Client's safety is the first priority to us. Indianapolis Roofing is fully licensed and insured, giving you peace of mind knowing that your property and investment are protected throughout the roofing process. Even, our team consists of certified roofing contractors who are well-trained and adhere to the highest industry standards.
Quality Craftsmanship and Materials
One of the primary reasons why we are regarded as the best roofing company in Indianapolis is our unwavering commitment to quality craftsmanship and materials. We source the finest roofing materials from trusted suppliers, ensuring longevity, and aesthetic appeal. Our skilled contractors are trained to execute every aspect of the roofing process with meticulous attention to detail, guaranteeing flawless and seamless results.
Customer Satisfaction and Testimonial
We believe that our customers are the most precious to us. At the heart of our success is our dedication to customer satisfaction. We take pride in delivering exceptional service that exceeds the expectations of our valued clients. Our testimonials and positive reviews are a testament to our commitment to excellence and the trust our customers place in us.
Affordability and Financing Options
We understand that roof replacement is a significant investment, and we strive to make our services as affordable as possible. As one of the few roofing companies near you that offer financing options, we provide flexible payment plans to suit your budget. Our goal is to ensure that you can enjoy top-quality roofing services without straining your finances.
Local Expertise and Community Involvement
Being a part of the Indianapolis community, we have an in-depth understanding of the unique roofing needs and challenges in the area. We are well-versed in local building codes and regulations, ensuring that your roofing project complies with all requirements. Accompanied by, we take pride in actively giving back to the community through various initiatives. 
Frequently Asked Questions about Indianapolis Roofing
How much does it cost to fix a roof in Indianapolis?
The cost of roof repairs in Indianapolis can vary depending on several factors, such as the extent of the damage, the type of roofing material, and the size of your roof. It is best to contact us for a personalized assessment and quote based on your specific requirements. Our team will provide a detailed estimate, ensuring transparency and helping you make an informed decision.
Does it require a permit to replace a roof in Indiana?
Actually, the answer is 'yes', a permit is required to replace a roof in Indiana. Building codes and regulations exist to ensure that roofing projects meet safety and quality standards. As a reputable roofing company, we are familiar with the local permit requirements and will take care of obtaining the necessary permits on your behalf, ensuring compliance with all applicable regulations.
Indianapolis Roofing stands as the best choice for exceptional roofing services. We as a team provide roof replacement, roof repair, roof inspections, emergency roof service, restoration, gutter installation services. Our experienced team, local expertise, comprehensive range of services, certifications, transparent pricing, and financing options make us the best roofing company to safeguard your home. We believe not only in words but also in deeds. Our client's satisfaction is our ultimate goal, and that is why we are the best roofing contractors in Indianapolis, IN.
So, don't be late. Just choose Indianapolis Roofing for your roofing needs and receive unrivaled professionalism, excellent workmanship, and substantial property protection.